Dermatomycoses Market Analysis Portrays a Promising Outlook of the Emerging Drugs During the Forecast Period (2021-30)
Increased awareness of this distinct histology has resulted in the development of drugs specific to dermatomycoses, as well as the beginning of shedding light on the similarities and potential differences.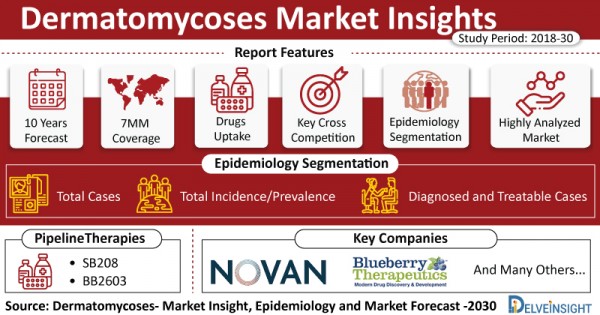 DelveInsight's Dermatomycoses market report provides a comprehensive understanding of Dermatomycoses epidemiology, historical and forecasted epidemiology, and market trends in the 7MM (the United States, EU5 (Germany, Spain, Italy, France, and the United Kingdom), and Japan). In addition, the report also covers current Dermatomycoses treatment practices/algorithms, Dermatomycoses market drivers, Dermatomycoses market barriers, and unmet medical needs.
Some of the Key Highlights from the Dermatomycoses Market Report
Dermatophytes cause the majority of fungal infections of the skin in Germany and around the world.

Dermatomycoses, including dermatophytosis, are commonly seen in routine medical care, according to Mochizuki et al. (2019). In Japan, tinea pedis was estimated to affect 21.6 percent of the population, while tinea unguium was estimated to affect 10.0 percent of the population.

Blueberry Therapeutics, Novan, and others are among the major companies which are developing novel therapies to boost the Dermatomycoses treatment outlook.

Blueberry Therapeutics is developing BB2603, a first-in-class nano-formulation of the most effective antifungal agent currently on the market. It is intended to treat both onychomycosis and Tinea pedis at the same time. Currently, it is in Phase I/II clinical trials for Dermatomycoses.

SB208 is being developed by Novan as a broad-spectrum antifungal gel for the treatment of superficial cutaneous fungal infections of the skin and nails, such as tinea pedis and onychomycosis.
To know more about the types of dermatomycoses, request sample @ Dermatomycoses Market Research
The Dermatomycoses market report also covers current treatment practices, emerging drugs, Dermatomycoses market share of individual therapies, as well as current and forecasted Dermatomycoses market Size from 2018 to 2030, segmented by seven major markets.
Dermatomycoses: Overview
Dermatomycoses is the medical term for fungal infections of the skin and skin appendages, including nails and hair, caused most commonly by dermatophytes. Fungal infections can occur at any time and be caused due to injured or pathologically altered skin areas. Dermatophytes are classified as anthropophilic, zoophilic, or geophilic based on their mode of transmission and primary occurrence.
Dermatomycoses Epidemiology Segmentation
The Dermatomycoses report proffers epidemiological analysis for the study period 2018-30 in the 7MM segmented into:
Dermatomycoses Total Incidence/Prevalence

Dermatomycoses Total Cases

Dermatomycoses Diagnosed and Treatable Cases
Dermatomycoses Treatment Landscape
A wide variety of topical antimycotic agents such as nystatin and amphotericin B, and systemic antimycotic agents such as Fluconazole and itraconazole are available for the Dermatomycoses treatment.
There are several FDA-approved drugs such as Efinaconazole, Luliconazole, Naftin, JUBLIA, and others that are used for Dermatomycoses treatment.
Dermatomycoses Market
Increased awareness of this distinct histology has resulted in the development of drugs that are specific to dermatomycoses and has begun to shed light on the similarities and potential differences. These factors, along with the anticipated launch of new therapies such as SB208, BB2603, and others, will drive the Dermatomycoses market size during the forecast period (2021-2030).
Dermatomycoses Pipeline Therapies and Key Companies
SB208: Novan

BB2603: Blueberry Therapeutics
For more information on the emerging drugs and companies, visit Dermatomycoses Treatment Drugs
Table of Contents
| | |
| --- | --- |
| 1. | Key insights |
| 2. | Executive Summary of Dermatomycoses |
| 3. | Dermatomycoses: Market Overview at a Glance |
| 4. | Disease Background and Overview: Dermatomycoses |
| 5. | DermatomycosesPatient Journey |
| 6. | Dermatomycoses Epidemiology and Patient Population |
| 7. | Dermatomycoses: Country-Wise Epidemiology |
| 8. | Dermatomycoses Treatment & Medical Practices |
| 9. | Dermatomycoses Marketed Products |
| 10. | Dermatomycoses Emerging Therapies |
| 11. | Dermatomycoses Pipeline Profiles |
| 12. | Dermatomycoses: Market Size |
| 13. | 7MM Dermatomycoses: Country-Wise Market Analysis |
| 14. | Dermatomycoses Market Drivers |
| 15. | Dermatomycoses Market Barriers |
| 16. | SWOT Analysis |
| 17. | KOL Views |
| 18. | Dermatomycoses Reimbursement and market access |
| 19. | Appendix |
| 20. | DelveInsight Capabilities |
| 21. | Disclaimer |
| 22. | About DelveInsight |
For rich insights into Healthcare and Pharmaceutical News, visit Pharma, Healthcare, and Biotech Blog Posts
Related Reports
Get comprehensive historical and forecast analysis of Athlete's Foot Market, Epidemiological and Therapeutics market domain with a special focus on key companies such as Bausch Health, Dembiont, Blueberry Therapeutics, Novan, among others.
About DelveInsight
DelveInsight is a leading Business Consultant and Market Research firm focused exclusively on life sciences. It supports Pharma companies by providing end-to-end comprehensive solutions to improve their performance.
Media Contact
Company Name: DelveInsight Business Research LLP
Contact Person: Sandeep Joshi
Email: Send Email
Phone: 9193216187
Address:304 S. Jones Blvd #2432
City: Las Vegas
State: NV
Country: United States
Website: www.delveinsight.com/