RSA Announces Election of Bibhuti Bhusan Pattnayak As Fellow of the Royal Society of Arts
The Royal Society of the Encouragement of the Arts, Manufacture, and Commerce (RSA) has announced that Mr. Bibhuti Bhusan Pattnayak has been elected as a Fellow of the Royal Society of Arts.
The founder of SavePlanet.io, Oneodisha. tv and latemaster.com, Mr. Bibhuti Bhusan Pattnayak, S/O Mr Niranjan Pattnayak and Mrs Bishnupriya Pattnayak has been elected as the Fellow of the Royal Society of Arts. This is a distinguished honour given to outstanding people from all around the world. The RSA fellowship eligibility rules are stringent. Only those who have made major contributions in the areas of social change, development, and advancement are eligible.
"We are glad to announce that Mr. Bibhuti Bhusan Pattnayak, Odisha, India, has been elected as Fellow of RSA," says Andy Haldane, the CEO of the RSA. "It is recognition for his highly valuable contributions towards technology, helping start-ups, and for being an active campaigner of climate change. He is also involved in many social and economic causes," Andy's welcome message is shown below:
Mr. Pattnayak is now among an august class of personalities who have been honoured with the award in the past. The past fellows include well-known figures such as Benjamin Franklin, the United States' Founding Father, Marie Curie, Karl Marx, Charles Dickens, Stephen Hawking, and Nelson Mandela.
The present important Fellows include leading engineers, architects, social entrepreneurs, artists, journalists, commercial innovators, scientists, and community leaders. Some famous names are Tim Berners-Lee, the inventor of the World Wide Web, Judi Dench, Alex James, and Benson Taylor.
There are many benefits of FRSA. It gives a special status to RSA members.
Mr. Pattnayak dons many hats. He is a climate change activist, entrepreneur, technology evangelist, social worker, UNO Act Now campaigner, and marathoner. Thanks to the RSA Fellow title, Mr. Pattnayak can get grants for various social-changing projects.
He started his career in India, travelled to South Africa, and finally to his dream city, London. As a part of his social projects, he has worked with the 'Help the Poor Trust.' He helped the Trust generate funds, organize events, and manage the Trust's IT. The Trust has also funded an Indian cancer hospital and helped homeless people in the UK. It has aided many people affected by natural disasters across the world.
Mr. Pattnayak launched his company named MAMBOSY in India to provide training and a stipend to engineers unable to find a job. He has transformed the lives of many people.
He joined the Royal Volunteer Service in 2020 during the first wave of COVID-19. Like so many others, the lockdown and job insecurity affected him and his family. They thought they should help others instead of blaming themselves and the situation. That's how he connected with this service.
They cooked meals, helped NHS Accident and Emergency 34 Staffs duging first wave of COVID.

They shared their experiences with others through City and Guilds blogs, WhatsApp groups, and All India Radio, Jeypore, India. It inspired many people and truly transformed their lives. For his efforts, Mr. Pattnayak was awarded the title of Everyday Leader 2020 by City and Guilds.
Mr. Pattnayak took to running and marathons, inspired by his daughter. He started raising funds through marathons for the mentally-challenged children and their families. He has also worked for 'The Maypole Project.' The organization has changed the lives of many children.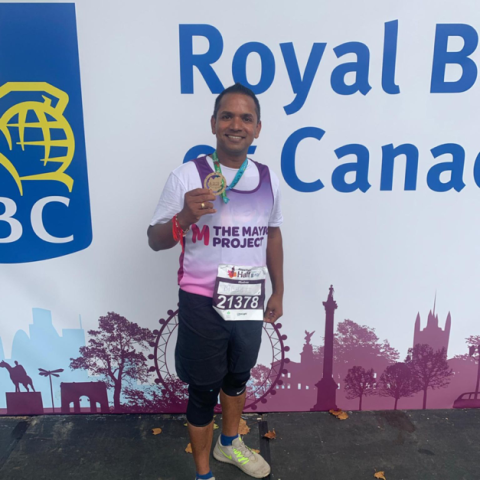 About Bibhuti Bhusan Pattnayak:
Mr. Bibhuti Bhusan Pattnayak is a climate change activist, entrepreneur, technology evangelist, social worker, and UNO Act Now campaigner and marathoner. He was born in a remote hamlet Kundei in the Raighar block of the district Nabarangpur, Odisha, India. Coming from a family with a poor financial background, Mr. Pattnayak was brilliant in his academics. He did private tutoring to help and support his parents. He was recently elected as a Fellow of RSA for his prominent contributions towards technology, mentoring start-ups, climate change campaigner, COVID-19, and social and economic causes.
About RSA:
RSA or the Royal Society of Arts supports various inventions as diverse as lifeboats, public toilets, and firemen's ladders. The organization helps find practical solutions to social challenges. The various projects they have handled include purchasing and restoring an entire village. The organization has planted over 60 million trees and funded inventions to reduce child labour.
The RSA has played a vital role in bringing about significant social impact for over 260 years. The organization's proven change process, in-depth research, innovative ideas, and a global community of over 30,000 problem-solvers have been delivering solutions for bringing about impactful change.
On receiving the fellowship, Mr Bibhuti Bhusan Pattnayak FRSA said:
"Receiving this fellowship is a big honour for me, and I am grateful to the Royal Society for recognising my efforts. I hope to collaborate closely with the RSA's vast worldwide fellowship network, which spans many nations, to harness the skills of fellows working on climate change and blockchain technology for the benefit of future generations. This fellowship will only motivate me to achieve more success in the future."
Media Contact
Company Name: The News Times Live
Contact Person: Global Editor
Email: Send Email
Phone: 7064715050
City: Orpington
State: Greater London
Country: United Kingdom
Website: www.thenewstimes.live