The UFO Disclosure Symposium is bringing Academia to small town Vernal, Utah.
The UFO Disclosure Symposium Speaker line up is incredibly prestigious with Dr. Travis Taylor, Harvard Professor Avi Loeb and Pepperdine Professor Paul Hynek as Keynote Speakers.
"We are very proud to have the honor of hosting some of the most incredible minds in the area of science and aerial phenomenon. The fact that all of these voices are coming together in a decentralized conversation around the evidence that has been coming out in the UFOlogy space is nothing short of incredible," says event producer David Schooley. "With the announcement of Congress holding public hearings on UFOs for the first time in over 50 years, the world is about to experience Disclosure like never before… and the The UFO Disclosure Symposium is kicking it all off at the perfect time!"
Dr. Travis Taylor is an Aerospace Engineer, Optical Scientist, Science Fiction Author, and star of National Geographic Channel's Rocket City Rednecks. Taylor has written more than 25 technical papers, 14 science fiction novels and two textbooks, and has appeared in multiple television documentaries, including NGC's "When Aliens Attack", and two current TV Shows; the Secret of SkinWalker Ranch and Ancient Aliens on the History Channel.
Taylor has worked on various programs for the United States Department of Defense and NASA for over sixteen years.He is currently working on several advanced propulsion concepts, very large space telescopes, space-based beamed energy systems, high-energy lasers, and next generation space launch concepts. Taylor is also involved with multiple Human intelligence (HUMINT),Imagery intelligence (IMINT),Signals intelligence (SIGINT) and Measurement and signature intelligence (MASINT)concept studies.
Professor Avi Loeb is a fellow of the American Academy of Arts and Sciences, the American Physical Society, and the International Academy of Astronautics. In July 2018, he was appointed as chair of the Board on Physics and Astronomy of the National Academies, which is the Academies' forum for issues connected with the fields of physics and astronomy, including oversight of their decadal surveys.
In June 2020, Loeb was sworn in as a member of the President's Council of Advisors on Science and Technology (PCAST) at the White House. In December 2012, Time magazine selected Loeb as one of the 25 most influential people in space. In 2015, Loeb was appointed as the science theory director for the Breakthrough Initiatives of the Breakthrough Prize Foundation. In 2018, he attracted media attention for suggesting that alien space craft may be in our solar system, using the anomalous behavior of ʻOumuamua as an example. In 2019, and together with his Harvard undergraduate student, Amir Siraj, Loeb reported discovering a meteor that potentially originated outside the Solar System.
J. Allen Hynek is the GodFather of Ufology. His son, Professor Paul Hynek will be speaking at the UFO Disclosure Symposium. Paul Hynek played a valuable role as consultant for the History Channel TV series, "Project Blue Book" Professor Hynek will share unique photos and incredible stories that only his children have knowledge & access to. Don't miss this rare opportunity to hear Paul's perspective about his Dad's invaluable Ufology legacy!
Paul Hynek has decades of successful experience in finance, technology, and entertainment. Paul is a Wharton MBA, an Adjunct Professor of Finance and Accounting at Pepperdine University, and the creator of startup financial projections software that has raised over $1 billion for thousands and startups. He has significant executive, software, and high tech experience in the US, Europe, and Asia. Paul works with numerous startups as either a Board member, advisor, or part-time CFO. Paul was involved in the making of Avatar, Lord of the Rings, Planet of the Apes, Tintin, Real Steel, Warcraft, The Hobbit, Halo, Call of Duty, and numerous other movies and games. Paul led the successful acquisition of Giant Studios' ownership of its renowned virtual production motion capture software, and was instrumental in Giant's sale to James Cameron for Avatar 2-5. Paul is also the Technology Consultant on "Mayne vs. Shark" which will be Discovery Channel's big Shark Week special in August, 2019. Paul is now active in cryptocurrency and Blockchain, advising several companies in the space.
"In addition to these incredible Keynote speakers, we have some of the very best Field researchers that have 30+ yrs in the field, additional Scientists and Physicists to evaluate the four new UFO Disclosure videos! You don't want to miss this!" Says Bob Brown, UFOMega Con Founder and a Producer of the Event, "Come to Vernal, Utah
OR watch LIVE Streaming from your own home!! Get your tickets at www.UFODisclosureSymposium.com".
About the UFO Disclosure Symposium –
The UFO Disclosure Symposium was formed by the UFO Mega Conference as an answer to getting information out 'to the people, by the people'. The organization was presented with Footage holders of very compelling evidence of UFO/UAP to bring to their reach and relationships of Industry Experts, Image Analysts, Scientists, and UFOlogists that could do their own third party verification. They decided to put this event together as a response to having access to all of these things at a time when the people need to hear expert incites, proven science and facts around this topic.
UFO Mega is a not-for-profit Immersion Event Coordinator of Scientists, Researchers, and Experiencers led by Bob Brown, a Co-Founder of UFO Mega Conference. Bob has been producing UFO-related conferences and events for over 35 years, attracting the top names in research and disclosure.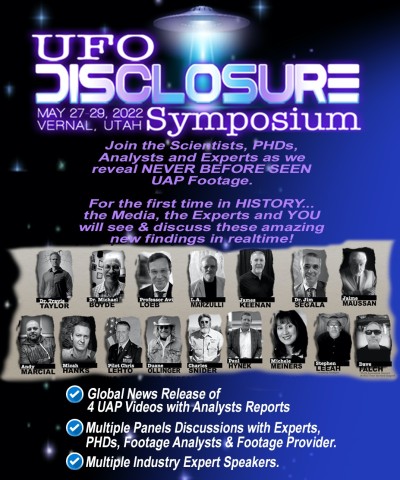 Media Contact
Company Name: UFO Disclosure Symposium
Contact Person: David Schooley
Email: Send Email
City: Vernal
State: Utah
Country: United States
Website: ufodisclosuresymposium.com