Head of Innovation in Technology with 90 Dealers in 50 Countries: MVD Makine
A Brief History of MVD
MVD Makine, a technology company in the sheet metal processing industry, was founded in 1950 and built its first machine. MVD, which gained fame primarily in Turkey with the quality of the machines it produces, has become a big brand that is known and trusted in more than 90 countries since 1994. In the same year, it produced Turkey's first tandem press brake.
What Does It Produce?
MVD Makine produces mainly Machines such as
Press brake machines (iBend),

Guillotine shears (iShear),

Fiber laser cutting machines (iLaser),

Plasma ans Oxy cutting machines (iPlasma),

Punch presses (iPunch),

Expanded metal presses (iExpand) etc.
Continuous Innovation
In order to take machine technologies one step further, it has been making large investments in R&D and P&D since 2017, improving servo press brakes (belt pulley types, screw-driven types, and hybrid types), laser compatible automatic sheet loading system, as well as the quality, lifetime, efficiency and durability of the machines. With its continuous development policy, it encourages both its employees and the whole sector to develop with process improvement, organizational improvement, marketing improvement, and innovation projects.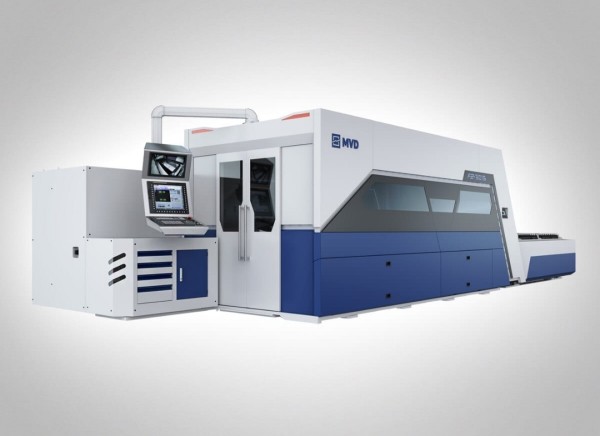 iLaser Fiber Laser Cutting
Industry 4.0 and MVD
As a company that has been investing in digital transformation and industry 4.0 for many years, MVD introduced its first industrial 4.0 compatible robotic press brake at the EuroBlech Fair in Germany in 2018. In addition, in the same year, it started to provide remotely connected services for the use of users and customers.
High Power, High technology, Excellent Machine
MVD Mechanical engineers and technicians equip their machines with the highest technologies, making them the most powerful and efficient. At the same time, it offers comfortable use with high-security measures. MVD Makine officials say that with all these features, it has become the focal point of countries such like European, North America, the Middle East, and Asia.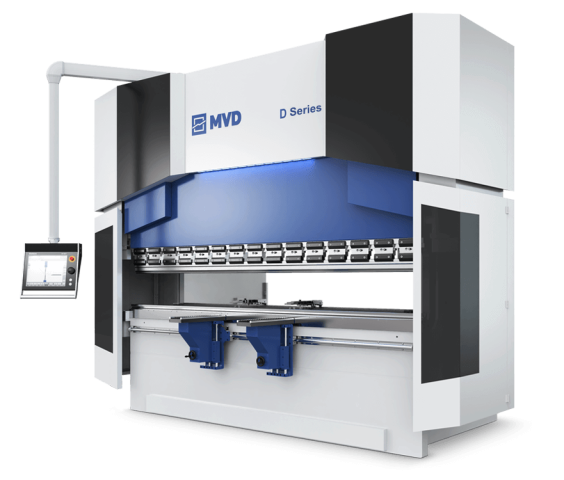 iBend Press Brake (D Series)
Last Member of the Family
MVD, which integrates the power of electricity into its machines in order to use energy, which is the most important factor of the past and today, in the highest efficiency, introduced its first servo press brake to its customers in 2018. It offers customers diversity with its "E" (Belt pulley system) and "S" (Screw driven system) series. With these two series, bedning processes are faster, less energy consumption and most importantly, production costs and maintenance costs are reduced compared to traditional press brakes, providing great advantages to its customers. With its continuous R&D and P&D studies, it aims to produce the best servo press brakes in the world by making today's servo press brakes more efficient and powerful.
Service
MVD Makine officials added that they care about providing an excellent service experience as much as producing their machines perfectly and that they meet everything that customers need with after-sales services.
MVD The Link in The Chain
Government support and grants to revive the global economy, which has slumped in the pandemic, has made the already high supply chain problem a steeper slope. MVD officials, who said that they stood by their suppliers in this process and cooperated to solve their problems together, drew attention to the importance of business development. Officials said that the pandemic has triggered not only the supply chain, but also the global chip crisis and the raw material problem, said that they are working to minimize the reflection of these effects on customers.
Finally
Increasing its investments day by day, MVD machine provides service with more than 60 dealers spread all over the world and constantly expanding. MVD Makine is convinced that they have embarked on a long journey with their customers and are reliable and trusted business partners on the way for solutions. In addition, it provides free training to its customers and dealers on the best use and maintenance methods.
Exhibition Calendar
Do not miss the following fairs to meet with MVD officials and to examine the machines and get detailed information.
May 11 – 14
June 14 – 16
October 1
September 26 –
November 26 – 30
For more exhibition information, visit the MVD website.
Website: https://www.mvd.com.tr
Facebook: https://www.facebook.com/mvdmakina
İnstagram: https://www.instagram.com/mvdmakina
Twitter: https://twitter.com/mvdmakina
Linkedin: https://www.linkedin.com/company/mvdmakina
Media Contact
Company Name: MVD
Email: Send Email
Country: Turkey
Website: https://www.mvd.com.tr