Thirsty Bucket – A Premium Class Online Marketplace with 2-Level Product & Packaging Quality Testing with Fastest Delivery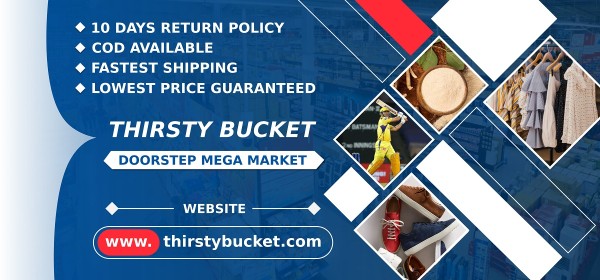 Where the world is efficiently running online to buy and sell products or services through some of the giant eCommerce or multivendor websites, another name shines out in the online Indian market i.e Thirsty Bucket. Launched back in October (2021) – this premium online marketplace has solved various problems faced by buyers. It was unable to justify the product quality while buying through even the most trusted online marketplaces.
Thirsty Bucket has its 2-Level Product & Packaging quality testing formula that gives full surety to the online buyers that they get the best quality products delivered. Another biggest issue that people always want to get rid of while buying online is the delayed shipping, the products ordered generally took several days for shipment. Thirsty Bucket with its paid yet fastest shipping methods ensures the buyers get their orders delivered within a maximum of 2-5 Days. Whereas, if the users tend to go for their special "Ship by Air" option then the orders can reach their address in less than 2-3 days.
Thirsty Bucket is unique and different from any other online eCommerce or marketplace because it is completely self-managed. The vendors are selected after several checks and they are continuously monitored for various factors like product quality, durable packaging, disbursement within an hour of order placement by the customer, etc.
Tons of Offers, as well as Discounts, await the users while shopping through Thirsty Bucket. Extra Discounts on Quantity, Instant Discounts for Sharing the Products on Social Media, Discount coupon for next order is given away on Writing a review about the Ordered Product, Affiliates are offered up to 15% commission rate, discount coupons for special daily deals, etc are offered to the customers.
Media Contact
Company Name: Thirsty Bucket
Contact Person: Mr. Harry
Email: Send Email
Country: India
Website: thirstybucket.com/