Linear – Minimalistic Hidden Flush Swing Door Range Launched by BK Ciandre
BK Ciandre is a leader in the minimalist furniture industry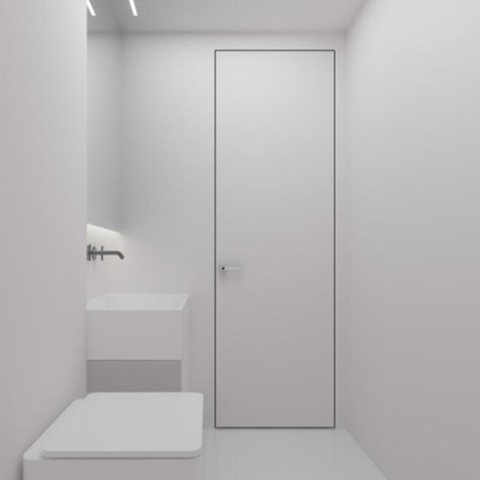 BK Ciandre is a leading minimalist furniture brand in china with over 15 years of experience in the industry. It is considered one of the most respected furniture manufacturers with an R&D backed product development process. Recently the company has unveiled a new product – the minimalist hidden flush Swing door series called Linear.
Linear has revolutionized the market, the extraordinary and aesthetic design with the state-of-the-art technology complementing each other.
This interior door is part of a collection of traditional historical memory, here reinterpreted in a contemporary style both in its language, which becomes incredibly light and in tune with the entirety of the interiors, and design.
With the frame and walls perfectly flush, Linear slim lone blends with the purity of the surfaces. Moreover, thanks to the reversed edge and the opening to the interior, it confers a stylish continuity effect with the sides of the corridor.
Speaking to the media, the founder of BK Ciandre said "We as minimalist door and minimalist furniture developers, we already provided a creative solution to more than 50 famous brands all around the world, we focus on providing high-quality service to our clients, and devote to create an innovative 5P factory, We insist in continuous eco-friendly conception, all the material we use is 100% recyclable, Technology creation let our production under eco-friendly environment"
Some of the unique features of the product includes :
1. Fingerprint touch sensor lock Touch & Close is the ideal solution for designing doors that separate rooms where privacy is required! High-Security Anti Theft AGB Fingerprint smart lock to prevent property loss.
2. Top-bottom axis The top-bottom axis is equipped in Bk Ciandre frameless door, it is work as a globe holding the door from top and bottom. It is anti-deformed and anti-falling.
3. Door Structure Comparison Original Italy design structure, the middle layer is an aluminum honeycomb panel, and the surface is laminated wood. It is weather resistant, high strength, has easy maintenance Sound insulation, and has good fire prevention performance Good plasticity, Impact resistance, and shock resistance.
4. Hidden flush door concept comes also the reduction of the frame to its original purpose To give the door its functionality, as the frame is no longer visible when the wall is completed. The hidden frame system in combination with a perfectly finished door offers unlimited design options. For example, walls and doors can have the same look. Interesting metal inlays, leather, and fabrics can be added to the walls, as well as the doors.
To learn more visit: https://www.bkciandre.com
About BK Ciandre
BK Ciandre is a professional minimalist furniture manufacturer and R&D solution global provider. We have a full range of collections of ceramic tables, kitchen cabinets, kitchen panels, walk-in closet, doors and modular TV wall cabinets. Our factory and showroom account for more than 25000 square meters, and we have more than 15 years of experience in the aluminum, glass, wood, and ceramic furniture industry. Our production line is set up based on Italy's top furniture brands' quality standards. The company is committed to bringing you a persistent product iteration solution to maximize profitability over time.
Media Contact
Company Name: BK CIANDRE
Contact Person: Angela
Email: Send Email
Country: China
Website: bkciandre.com