UF-TOOLS Launching A Revolutionary 36-in-1 Wholesale Screwdriver
UF-TOOLS, a precision tools manufacturer by Youfu Group, launches a screwdriver set that aids mobile repair.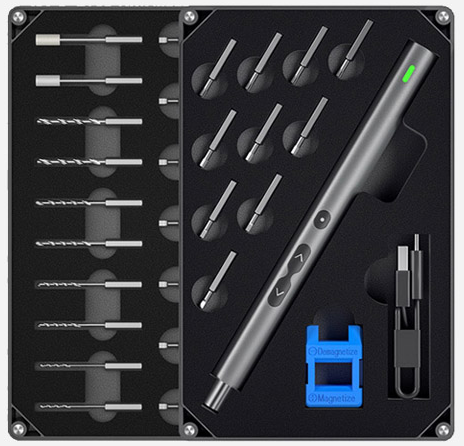 A Wholesale precision tools manufacturer, UF-TOOLS, introduced a phone repair kit different from traditional screwdriver kits. It consists of a highly transparent outer box with a flip-cover design. The box is sealed with magnetic covers, which are easier to open and close—many options to choose from, which ensures variety and help in all sorts of repairs. The electrical device includes a knob switch that prevents the wrong operations. The container has excellent thoughts to make it easier to pick and place.
For more information about the screwdriver set, visit : https://www.youfutools.com/Phone-Repair-Kit/36-in-1-New-Product-Electric-Screw-Driver-set.html
Youfu Group aims to offer high-quality products to markets and industries worldwide while providing the most cost-effective price that satisfies enterprises of all sizes. UF-TOOLS are well known as repair tools manufacturers, precision screwdrivers manufacturers, and screwdriver set manufacturers that provide tools wholesale with good value and quality. Youfu also provides custom services like pre-sale, OEM, and ODM services.
Check out UF-TOOLS and decide which tool or product would best fit you at https://www.youfutools.com/
Lisa Tshbika from IFIXIT USA had nothing but praise for the company and quoted, "We have collaborated with many factories in China, and uf-tools is the supplier who has cooperated for the longest time. The long-term cooperation makes me never worry about the quality of uf-tools products."
UF-TOOLS has been producing and selling precision hand tools, electric tools, accessories, and household repair tool kits for over ten years. In this complex and constantly evolving market, manufacturers must be on the lookout for opportunities and always accept change.
The screwdriver set saw great success on the crowdfunding platform Kickstarter, which provides new and creative products to reach the company's desired goals. Visit the link to check out what people thought about it at Kickstarter https://www.kickstarter.com/projects/uftools/uf-tools-electric-polisher-screwdriver-and-driller/description
The team at UF-TOOLS follows distinct values that show in their products. Youfu's corporate culture is based on trust, responsibility, efficiency, quality, courage, and entrepreneurial spirit. These forward-thinking approaches allow the company to produce solutions that meet the needs and demands of the customer and always stay one step ahead of the market.
Also, for the revolutionary screwdriver set reviews, visit https://www.youtube.com/results?search_query=Precision+Electric+Screwdriver+Kit.
About Youfu Group
The company Youfu group started the venture in 2008 in Shenzhen, and in the same year, Alibaba authorized the China quality supplier star title. Since then, the company has been inclining in all respects. By developing rapidly and internationally and recruiting professionals dedicated to electronic digital communication tools, with significant research and development with the help of the R&D team, the company has made its mark in the ever-evolving manufacturing industry.
Media Contact
Company Name: YouFuTools
Contact Person: Sophie Sue
Email: Send Email
City: Shenzhen
State: Guangdong
Country: China
Website: www.youfutools.com