Life Science Analytics Market To Generate $18,386 Million Revenue in 2030 | CAGR 9.6%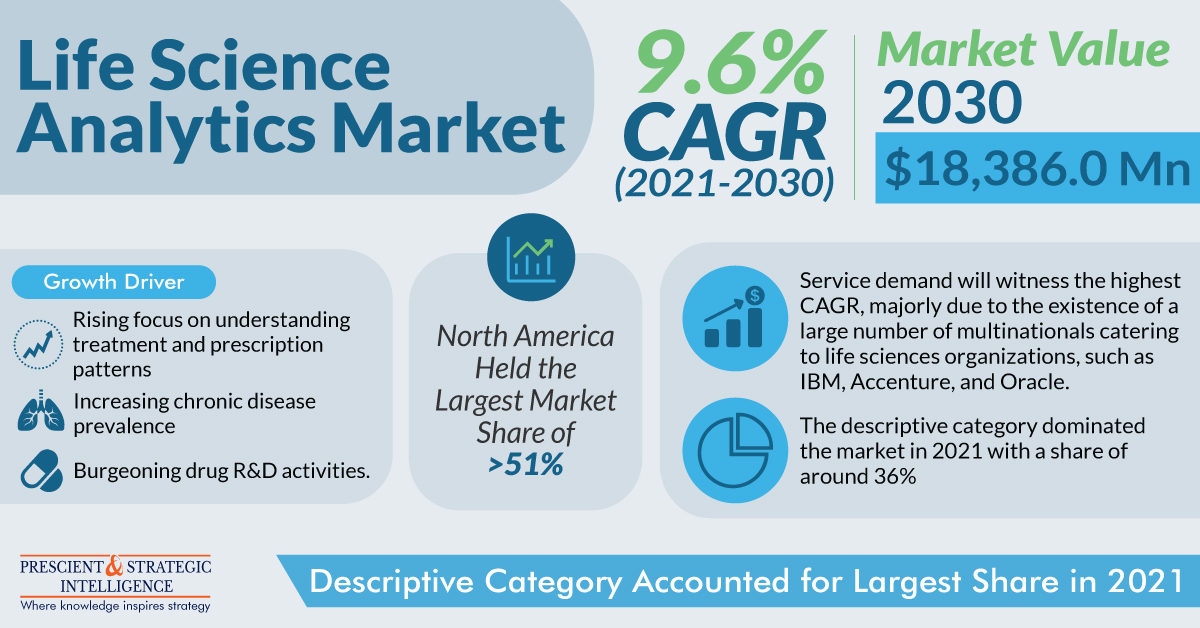 Asia-Pacific will have the highest life science analytics market growth rate, of 9.9%, during the forecast period, due to the rising incidence of chronic diseases, expanding life sciences sector, and increasing focus of major players on bettering their presence in the emerging Asian economies.
According to P&S Intelligence, the life science analytics market garnered $8,078.8 million in 2021, and it is projected to generate $18,386.0 million by 2030, advancing at a rate of 9.6%. The rising prominence of the early detection of diseases with existing data analysis, to provide support in understanding prescription and treatment patterns, is the strongest reason for the market growth.
Higher Efficiency of Descriptive Analytics
Descriptive analytics help identify trends and relationships, for studying current and historical data. It is the easiest data analysis form due to its ability to describe trends and relationships, which is why these solutions generate over 35% of the revenue for healthcare IT firms.
The rising footfall of patients, surging availability of function-specific analytics software, and growing cloud-based life sciences solutions demand are expected to propel the analytics software adoption in the future. In addition, the large-scale utilization of big data analytics by healthcare, pharmaceutical, and medical device enterprises is why descriptive analysis solutions are so popular.
Request for sample pages of this report: https://www.psmarketresearch.com/market-analysis/life-science-analytics-market/report-sample
Predictive Analytics Following Closely behind
Predictive analytics is substantially utilized by life sciences companies, which are implementing business intelligence solutions for allowing themselves a more-agile approach to operations. This is due to the numerous challenges faced by the life sciences sector while dealing with healthcare reforms navigation, innovation, value delivery, and improving supply chains.
Rising Penetration of Multinational Companies
The demand for services is projected to rise the fastest due to the growing penetration of multinational companies in the life sciences sector, such as Accenture, Oracle, and IBM. These companies provide a whole range of services in consulting, strategy, operations, and technology, to help deliver more-personalized and improved healthcare and patient outcomes.
For instance, Accenture provides numerous services to the life sciences sector, such as research & development, medical technology, supply chain, cloud computing, and patient services. These solutions provide support in lowering costs, increasing engagement, and running a profitable business for healthcare companies, customers, and payors.
Prominence of On-Demand Analytics Solutions
The demand for on-demand analytics solutions will grow at a 9.7% CAGR, as they support users in altering approvals, implementing new technologies, carrying out regulatory planning and submissions procedures, and implementing RWE/D generation's methodical use, storage, and analysis.
Browse full report at: https://www.psmarketresearch.com/market-analysis/life-science-analytics-market
Fastest Growth in Adoption of Life Science Analytics in APAC
The demand for life science analytics solutions is projected to experience the greatest growth in the APAC region, of 9.9%, in the future. This is led by the increasing prevalence of chronic diseases, expanding life sciences sector, and rising demand for cutting-edge technologies.
Countries such as China, India, and South Korea widely utilize analytics for extracting crucial insights from databases, led by the availability of a massively trained researcher and healthcare staff and growing analytics demand in numerous third-party BPS organizations.
Global Life Science Analytics Market Size Breakdown by Segment
By Type
Reporting
Descriptive
Predictive
Prescriptive
By Component
By Key Delivery
By Application
Research and Development
Sales and marketing Support
Regulatory Compliance
Supply Chain Analytics
Pharmacovigilance
By End user
Medical Devices
Pharmaceuticals
Biotechnology
Regional Analysis
North America
Europe

Germany
France
U.K.
Spain
Italy

Asia-Pacific

China
Japan
India
Australia
South Korea

Latin America
Middle East and Africa

South Africa
Saudi Arabia
Browse more reports published by P&S
Pharmaceutical Analytical Testing Outsourcing Market – The size of the pharmaceutical analytical testing outsourcing market in 2021 was $7,594.3 million, and it will advance at a growth rate of around 9% in the years to come, reaching around $15,815 million by 2030. This has a lot to do with the innovations in the pharmacological industry; the augmented emphasis on safety, regulation, and eminence; the increase in the number of users; and the financial perks of outsourcing.
Medical Device Analytical Testing Outsourcing Market – The demand for medical device analytical testing outsourcing is predicted to hit $10,904.8 million by 2030. This is due to an increase in the number of small-scale producers of medical devices, increased demand for medical device efficacy and security verification and validation, and the implementation of stringent government regulations.
Media Contact
Company Name: P&S Intelligence
Contact Person: Abhishek
Email: Send Email
Phone: +918887787886
Address:Noida Sector 2
City: Noida
State: UP
Country: India
Website: https://www.psmarketresearch.com/market-analysis/life-science-analytics-market