Alltoscan introduces Multichain Blockchain Explorer by applying Blockchain technology.
Alltoscan Ecosystem also has a specialized token $GLDX Token, to drive efficiency, among other benefits.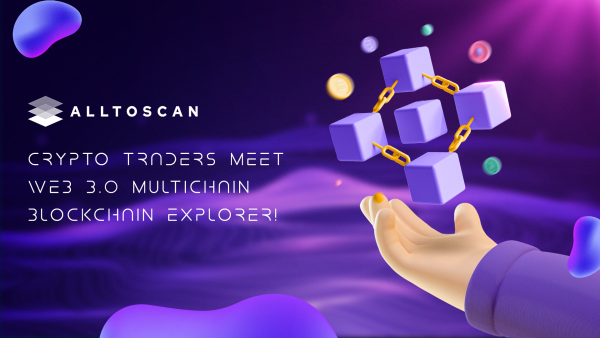 Alltoscan introduces Multichain Blockchain Explorer by applying Blockchain technology, taking the concept of Blockchain Explorer further, and rebuilding the future of its users.
In recent years, Blockchain technology has significantly advanced, and it is time for businesses to take advantage of the Blockchain revolution. With this belief, a group of entrepreneurs launched Alltoscan. Their mission is to create the most innovative company using a Blockchain system that can bring tomorrow's Blockchain technologies to today and lead the entire industry into a new era.
Alltoscan supports several networks, including Binance Smart Chain, Ethereum, Avalanche, Polygon, Arbitrum, Fantom, and Cronos. In addition, it has a partnership with Unstoppable Domains, allowing users to track wallet transfers by searching for their WEB3 Domain.
They believe that Blockchain can be a tool to make the world a better place for humanity. They aim to accelerate the adoption of cryptocurrencies by finding new and exciting ways and providing real benefits to non-crypto users to advance this future. Alltoscan and #GLDX Token create an ideal combination that makes this vision a reality.
The market size of Blockchain Explorers is estimated to reach its peak in 2023, with an average global cryptocurrency ownership rate of 4.2%, and over 420 million cryptocurrency users worldwide. As of January 2023, there are over 85 million users using only the Bitcoin Blockchain Explorer. Alltoscan aims to bring all users together on a single platform through its seven different Blockchains.
Alltoscan started operating as a Multichain Blockchain Explorer in December 2022, supporting seven different Blockchain networks. The team is working hard to expand its customer base and expand its branches by creating new networks, swap platforms, and a referral system without losing sight of their values.
By activating the referral system in 2023, Alltoscan aims to allow its users to earn passive income by completing easy, simple, and minimal tasks daily without any obligation to pay a fee.
As part of their ambitious roadmap, they are developing other concepts for use within the year. They are developing a swap platform that allows users to track wallet movements while providing buying and selling opportunities. Users will have control and monitoring over their investments. This application will be launched in 2023.
Until now, they are preparing to be the largest platform in 2023 with the Swap Platform concept. This concept will be an additional application integrated into Alltoscan to prevent users from falling behind in buying and selling activities while tracking the transfers of their crypto wallets and playing a crucial role in sustainability.
The $GLDX Token, a special token within the Alltoscan ecosystem, is designed for maximum efficiency and benefit. Its primary purpose is to symbolize the ability of users to send transfers with a single token without the need for multiple cryptocurrencies for transfer fees.
For more information visit :
Website: https://alltoscan.com/
For updates, follow @alltoscan on Twitter.
Media Contact
Company Name: Alltoscan
Contact Person: Abel Wasim
Email: Send Email
Country: United States
Website: alltoscan.com